24 Nov

Advent Calendar

It turns out there's only so long you can remain in a state of suspended animation or cautious vigilance. And then life just has to return to normal. Goodness knows what's going on now. Case numbers are going up. Or they are going down. Vaccines must be boosted, perhaps just once, perhaps many times. Perhaps doom is upon us. Does anyone care? Or rather, is it the case that we have absorbed the only recently-forgotten fact that no-one gets out of this life alive and decided that this being so, dwelling on it is unhelpful. "Life is a predicament, not a race" I saw somewhere the other day. Longing to engage with the predicament in the company of fellow humans rather than alone, we are going to be attending and organising some Christmassy events in the next month, with due but not excessive regard for safety. Or perhaps we should say, with an appreciation that the dangers of being alone for too long and getting viral derangement syndrome are also very real. If you are not able or willing to get out, but wishing for some festive cheer nonetheless, then you may be interested in having fun at home with our new seasonal printing blocks which have just this minute arrived.
GREAT DIXTER CHRISTMAS FAIR
East Sussex, November 27 and 28
To our delight the Christmas Fair at Great Dixter is back up and running this year. Here is the beautiful poster for it created by Phoebe Connolly. It properly conveys the feeling of the place and the pleasure of the event where all sorts of interesting makers, illustrators, potters and merchants sell their wares in the halls and barns of this extraordinary old house, while fires cheerfully crackle in the enormous open fireplaces and we all feel as though we have been temporarily transported back in time. If anyone has read the excellent children's book 'The Lark and The Laurel' by Barbara Willard and its account of a Tudor Christmas, they will recognise the scene. It takes place on this coming Saturday and Sunday, from 10 am until sunset. Any of you who live nearby, we will hope to see you there. There's no need to book ahead.
CHRISTMAS STUDIO SALE
Cambridge, December 14
The second event that is back on this year after a pandemic hiatus is our annual Christmas Studio Sale. It will take place in the Unitarian Church Hall, just off Emmanuel Street in the centre of Cambridge, between noon and 6 pm on Tuesday 14 December. It's just behind the Chapel which you see looking very wintry in the picture below. The hall is a nice old early twentieth-century building with a vaulted ceiling and big windows, which we'll be keeping open. We think it will be a safe environment. We'll be serving mulled wine and home-made mince pies and looking forward to a chat as you browse amongst the two years-worth of accumulated seconds, slightly damaged stock, mistakes, ends-of-lines and things we forgot we had, all of which we will be selling off at bargain prices. There really is absolutely masses of it. If you are feeling cautious about crowds, consider coming later in the day. The opening rush usually disperses by about two in the afternoon, allowing you to browse in peace, mince pie in hand.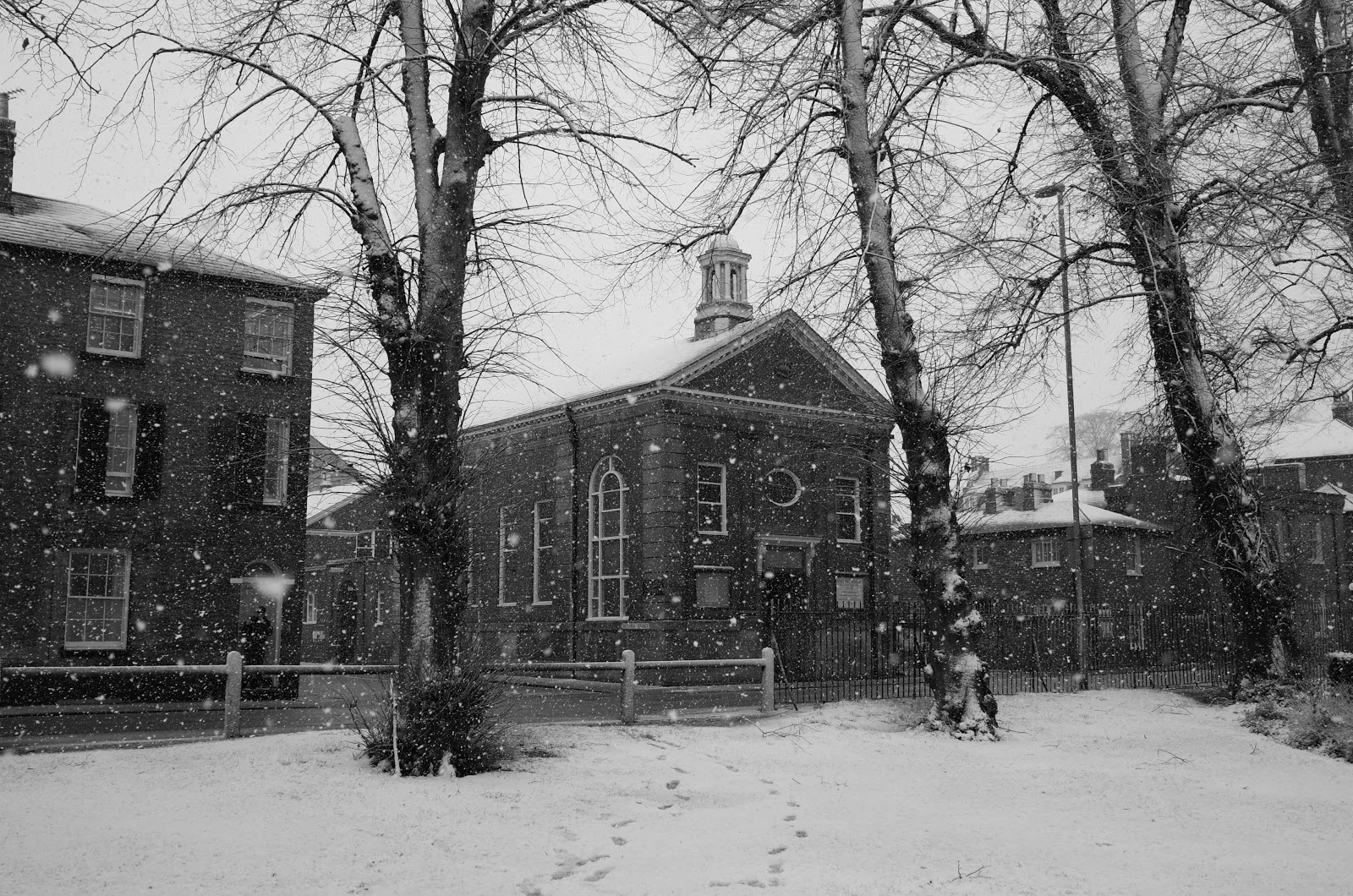 Finally: Christmassy things to do at home. Emboldened by the wrapping paper we hand-stamped using our own printing blocks last year, we have designed a collection of dedicatedly Christmas-oriented blocks. In spite of a serious supply-chain bottleneck, our heroic Norfolk block-makers have managed to make over 100 sets of them. They arrived yesterday, were packed into their boxes (made in Sheffield) overnight with our own loving hands, and delivered to the parcel team in Bedford in a very low-carbon fashion (which is to say, by Jane, in her new electric car). They arrived about ten minutes ago and are available to buy as of this moment.
The set contains eleven blocks: a Wreath; an Angel with Trumpet; a Big Tree and a Little Tree; a Running Deer; a Partridge without a pear tree; a Bird with a Sprig of Leaves; a pretty Snowflake; a Star of the Nativity and a tiny Snow Star; and 'Happy Christmas' in very jolly text to round it all off.
None of the designs in the set is available singly, but we do have other blocks, which can be bought individually, that are very suitable for Christmas printing. They include a brand new reindeer block and a whole range of stars, hearts and folk art animals. (Any of which would make an excellent stocking filler.) Numbers are on the low side in some cases but new supplies of these will be arriving over the course of the next couple of weeks, so do check back if you are disappointed at first.
We hope we have made an ample sufficiency of both the Christmas sets and the individual blocks, but please do buy straightaway to avoid disappointment. In the past demand has taken us a little by surprise and despite strenuous efforts, we never seem to quite make enough. If you were disappointed about the Autumn Hedgerow blocks which disappeared so rapidly last month, do get in touch. We have had so many requests that we have decided to make an out of season batch in the new year. We would be happy to add your name to the list if you don't want to wait until next autumn for them to reappear.