07 May

Cold Spring

Spring is a long-drawn out season in this country, often jumping unexpectedly forwards into summer, so that we're out in shirt sleeves before the leaves are on the trees, then plunging back into winter just when we've got our flip-flops out. Having spent time in places where spring seems to be over in a week — blink and you miss it — I think it's one of the ways in which we are fortunate in our climate. We get to linger in the most tantalising part of the year for a couple of months, as the leaves appear slowly on the trees in their most tender green and blossom remains fresh and astonishing for weeks. But surely this spring seems more than usually capricious and tentative? In April there was bright but cool sunlight most days, with hard frosts every night. As I write a gale has been blowing for two days, rain is hurling itself against the window, and the wind is bitter. All the plants are holding back their headlong rush, and here at Cambridge Imprint we also feel just a little cautious about emerging from hibernation.
The pestilence is in retreat. More than fifty per cent of the population has been vaccinated, and case numbers have fallen to almost unmeasurable levels. The other day the grim register of deaths, ratcheting inexorably upwards each day for the past year to its present unimaginable count of 127,000, increased by just one single soul. So we are once again allowed to meet friends outside, and no longer have to look deep within ourselves on a regular basis to consider whether our purchase, or our journey, is 'essential' or 'inessential'. In two weeks cafés, restaurants and pubs will be allowed to serve their customers indoors. We'll actually be allowed into other people's houses, and not just to go to the loo. Imagine the ease and the delight of being able to go and sit at someone else's kitchen table and have a cup of tea.
We thought we might be feeling a marvellous sense of release at this point (and in anticipation we made this card below.)
But in fact we're finding it hard to commit fully to cheerfulness just yet — to allow ourselves to believe that it's over. Perhaps it's the dreadful news from India of soaring cases and collapsing healthcare, of oxygen shortages and funeral pyres incessantly burning. Just a couple of months ago the reports were that the Indian epidemic was over and there was much speculating (some might even say pontificating) about the reasons for their avoidance of the worst that the foul pestilence can do. Now they're back in the inferno, and one senses again the immensity and volatility of the forces at work – the force not just of the microscopic but relentlessly evolving virus, but also of human actions and human psychology in the aggregate. We each independently make some apparently small adjustment in our behaviour and the consequences are huge and unpredictable, like a murmuration of starlings wheeling in the sky.
Another source of unease is because here at Cambridge Imprint we have been dealing with a different enormous force that we don't really understand, namely the internet. Our Instagram account was hacked last month. We really loved Instagram and considered it to be, for us at least, (we are strangers to the selfie) a wholly novel and benign phenomenon, a way of finding and communicating with like-minded people about visual things without the need for words. We knew of course that the Internet is the open ocean, and piracy takes place there if you are remotely vulnerable. We just hadn't identified our Instagram account as a potential target. After a turbulent month during which we negotiated with the hacker to play for time while trying to attract the attention of a human being at Instagram, we have  now started a new account. For those of you who follow us on Instagram and have been wondering where we had got to, our new handle is @cambridgeimprintofficial.
It's hard to say who we dislike more, the hacker or the giant supra-national corporation. Obviously the hacker was highly defective in terms of personal morals. Perhaps he or she was a very small-time crook, or perhaps instead a really significant ratbag, using only a tiny fraction of his or her attention to communicate with us, while simultaneously frying much bigger fish. We have now heard tales of institutions paying tens of thousands of pounds to have their social media accounts restored to them. So our reluctance to pay a ransom of £500 in Bitcoin ('what even is Bitcoin?' we asked one another) must have been infuriating. But at least there were occasional glimpses of humanity. We were clearly in different time zones judging by the strange hours at which this person became grumpy and announced that we had better pay up soon, or else, but that they couldn't talk to us about it now because they were tired and needed to go to bed.
Instagram, on the other hand, has shown no sign of human life within its impenetrable digital citadel.  We cycled endlessly through their circular procedure for reporting hacking, repeatedly confirming to ourselves that it leads nowhere. Our Member of Parliament raised the matter with Instagram's parent company Facebook on our behalf, but to no avail. (Thank you Daniel Zeichner MP for your efforts). We pulled every string we could think of. We even reported our own hacked account for infringing our copyright. No reaction. We were tenacious, but for the time being we seem to be beaten. Verily it is said that in this case we are the product, not the customer. We are still hopeful that an act of mercy will restore our account to us. In the meantime though, please come and sympathise with us in our new virtual location.

Finally, we found ourselves unexpectedly perturbed by the death of Prince Philip. He had a good innings, and was incredibly old – it is in no way a tragedy. But we felt sad for the Queen, looking so alone, and were moved by the austere ceremony with the lone piper receding. And more than that was the feeling of the forces of history moving in the deeps, and an era ending. The Queen and Prince Philip have been in post for so long that my mother, now in her 80s, was one of the thousands of children who were marshalled on Sydney's Showground, dressed as ears of wheat, to celebrate the royal tour of Australia in 1954. (The children swayed in unison in the manner of wheat stirred by the wind, while the royal couple went past on the back of a Land Rover, very far away, waving regally.) They were a constant, and as such, a comfort. So many photographs appeared of them both looking rather gorgeous in their youth. This was one of our favourites.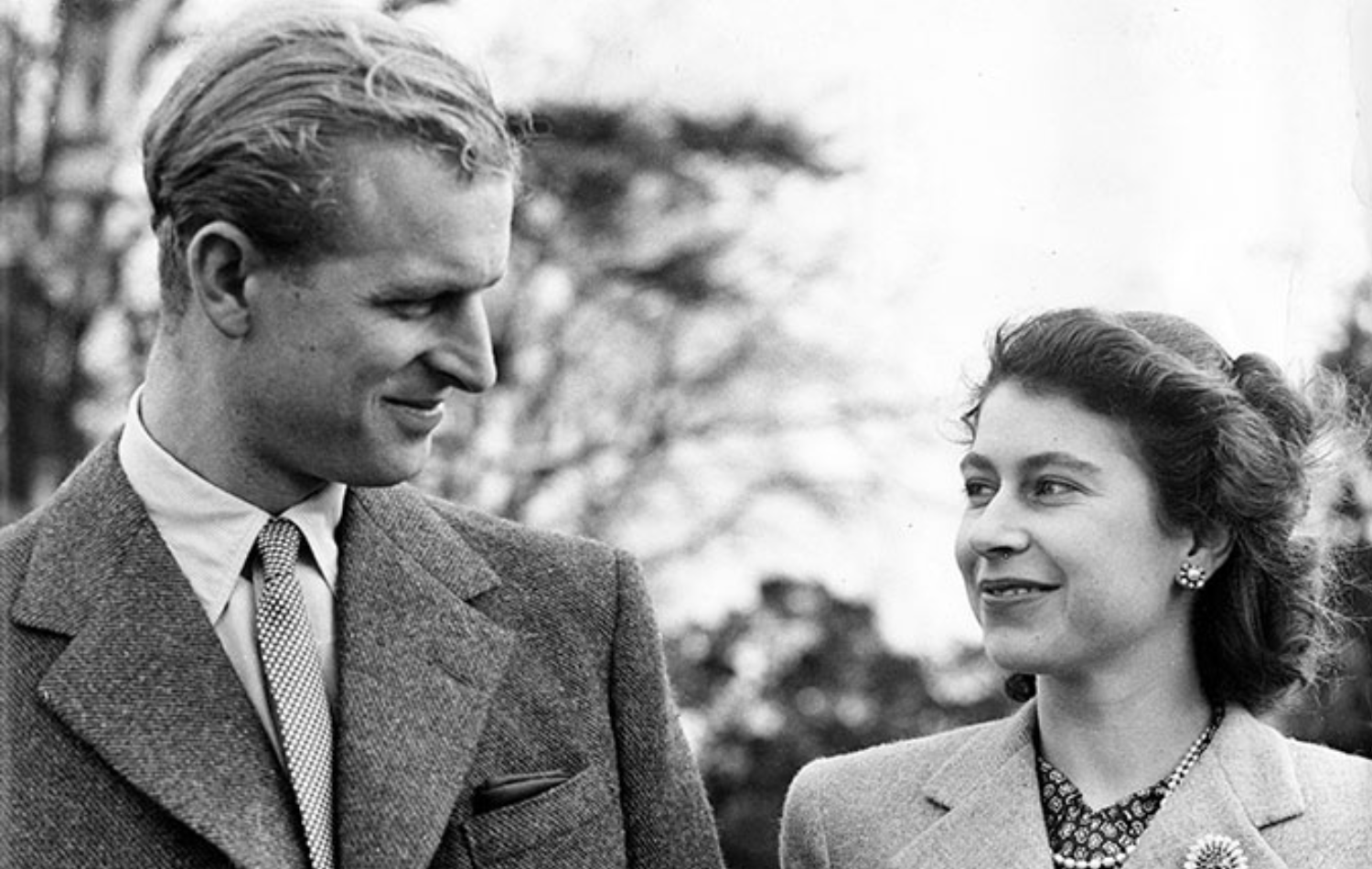 Keeping calm and carrying on seems to have been the sensible strategy of the Queen and Prince Philip in all circumstances, so we're following that model. No over-exuberant return to normal life, no shrinking back either. We've been doing a lot of drawing and painting, and the life of the business continues more easily now that we can meet in person more often. This email is full of pictures of our sketchbooks which have just arrived in a range of new patterns, and which we have no hesitation in recommending because we use them absolutely all the time ourselves.
We'll be planning to eat out in a quiet way when that's allowed, but planning travel abroad already seems perhaps a little reckless. How horizons have shrunk. A simple spot of shopping seems pretty exciting. Our friends Persephone Books have moved operations from Bloomsbury to Bath and their new shop has just opened there. With the help of Peregrine Pottery in Stoke, we have made them this elegant creamware mug in the Persephone design we named for them a few years ago. Anyone who misses Persephone's Lamb's Conduit Street bookshop in London and who makes their way to Bath instead can claim a free mug. That seems like the right size of adventure for now.