05 Jun

Fabrics At Last

This extraordinary period of glorious weather has been such a blessing: day after day of bright sun and fresh, clear air. But the dryness was really beginning to be a worry, so we were happy to wake in the night to the sound of rain falling and gutters gushing, and to wake this morning to this grey, damp day. And after a much, much, much longer wait, we are so happy to announce today that our first fabrics are, at last, available.

The enforced pause of the lockdown has led us to do at last many things that we had left undone. Quite some time ago we worked with textile printers Ivo in West London to produce a heavy, floppy soft linen in five of our favourite patterns. We were very pleased with the results. It was a very busy time and we thought we would sit and think a little about what to do with the linens next. We had ideas about tablecloths and cushions. We made some of these things for ourselves as a sort of road test. Then we popped the bolts of fabric under a bed for safe-keeping because they were a bit in the way. Time passed. We forgot about them. You know how it is.

Current circumstances have persuaded us that we were overthinking all this. We had fun using the fabrics; we're sure you will too. So we're selling the fabrics in the simplest possible way: by the metre. For now we have just those initial bolts of fabric to sell. If there is demand we'll print more. (And if you want more than we have available, let us know: we can print it to order.)

The linen we chose to print on is heavy and soft, slightly uneven and nubbly but not excessively, rustically so. The base colour is a very slightly warm off-white and the fabric weighs 300 grams per sq metre. The printed width is approximately 140cm (it varies very slightly with the pattern) and there is a selvedge of 4cm on each side. It is ideal for cushions and curtains but too light for upholstery. At the moment we're not able to supply samples.

On the whole textile printing can favour either light-fastness or colour-fastness during washing, but not both. Because we intended the fabric for curtains we went for light-fastness, and having made curtains and hung them in sunny windows for over a year, we can testify to the colour not fading. And the cushions we made are just getting better with age. But of course this means that the fabrics are dry-clean only. We were sceptical that this was really necessary (for some of us it is practically a moral duty to attempt to wash things that say they are dry-clean only) but we did the experiment and it turns out to be true. In short, do not, as we did, make a tablecloth or any other item that requires frequent and regular washing: the colour will fade fast.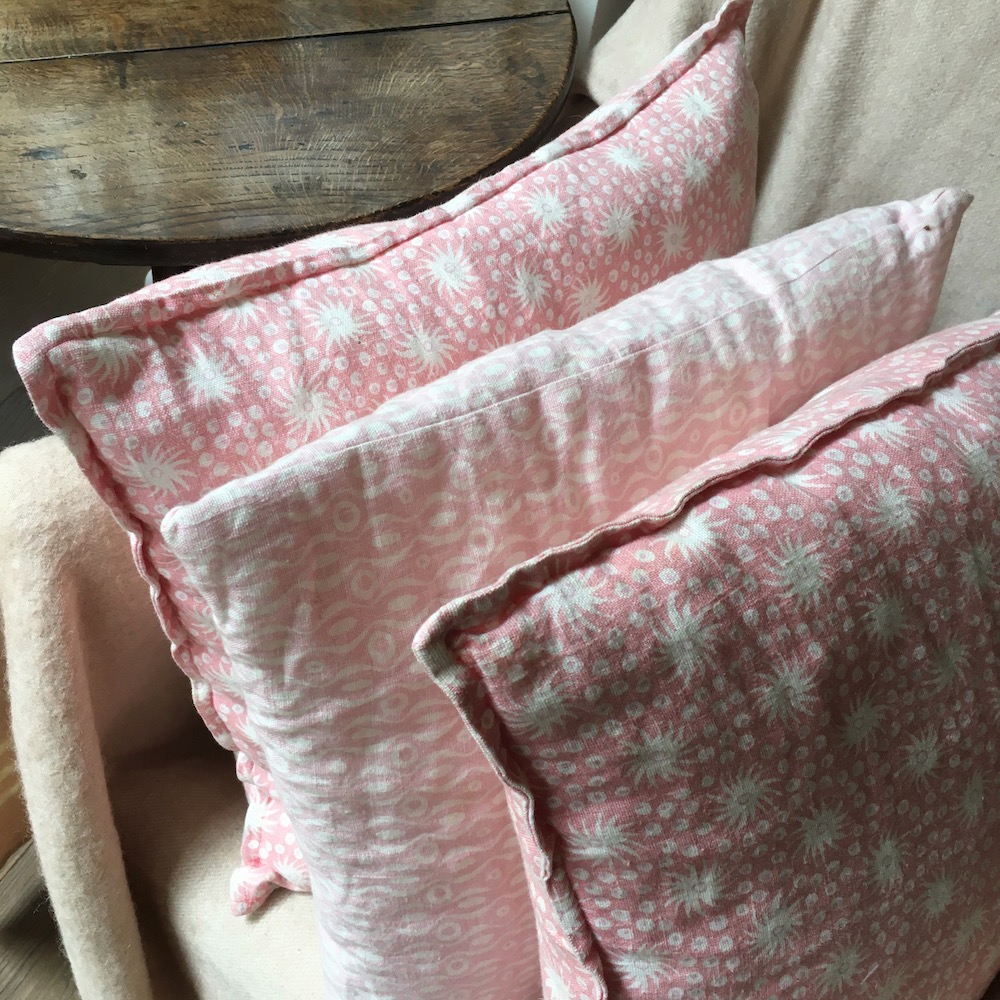 We printed a single colour way of five of our favourite, most tried and tested patterns.
Persephone in a delicate, quite cool, pale pink
Dandelion in a rich strong mid-blue
Oak Leaves in a very gentle, easy, faded dirty yellow
Milky Way in a warm, faded red-pink with cooler pink details
Bean in a bright, strong, slightly pink, red
Depending on the response to these first experiments, we may print the same patterns in other colour ways. If there is something you would particularly like to see, do contact us: we'd like to hear about it. But in the meantime, you can see these first fabrics here, in our online shop.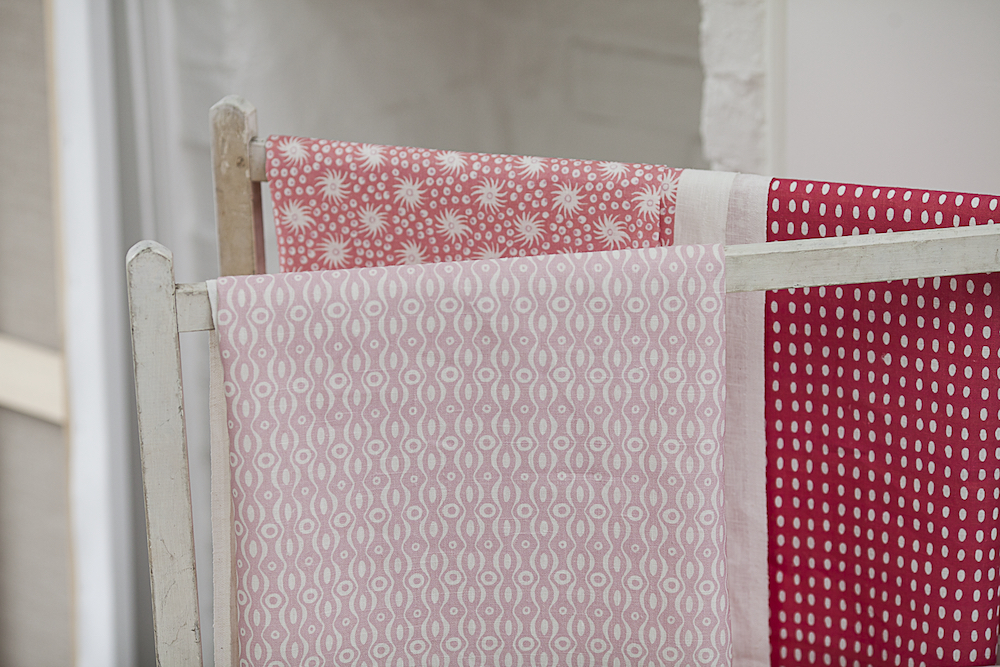 Now, as the country cautiously comes back to life, we're carrying on with another long-term textile goal which this particular project did not achieve. For years we've been looking for the perfect tablecloth. In recent times, perhaps because eating together regularly was becoming less common, the tablecloth seems to have vanished as a concept. An unexpected silver lining of this long period of enforced domesticity has been that we have all been reminded of the pleasures and the rituals of cooking and eating together. Perhaps a renaissance of the tablecloth is about to dawn. We're not going to hang around waiting, though:seize the day is the new spirit.  We love tablecloths and it's clear the only thing to do is to make some ourselves.  We're talking to a textile printer in Macclesfield now about colourfast printing of our patterns on cotton. We'll keep you posted.