23 Jun

Midsummer Madness

Midsummer is here, arriving as always near the beginning of summer rather than in the middle of it. The world seems to be mired in a period of general insanity. Let us agree that this is so while not specifying the type of insanity lest in so doing we mark ourselves out as being of a different tribe. Suffice it to say war, pestilence and political unrest stalk the world and there is a palpable feeling that trouble of other kinds is brewing. We've been sending these emails for two and a half years now, chronicling our adventures as we try to keep a small business afloat in challenging times. Afloat we still are, but each new challenge seems to come out of nowhere, utterly different to the last, and only through constant adjustments do we stay buoyant. Thank you all for continuing to buy from us: we would not be here without you.

In a time of turbulence, one must turn away from the world of politics and cultivate one's garden. Still the best advice, both metaphorically and literally.  The natural world doesn't let us down: regardless of human tempests, the plants and animals get on with their business of making a living, and watching them do so is a source of reliable joy. We've made a last clutch of printing blocks to help us fully enjoy this midsummer moment of maximum fecundity: a range of twining tendrils and shoots and flowers and ferns and a whole range of beetles, bugs, bees and butterflies to populate them.

You can buy our Midsummer stamps as a set. The set includes four twining leafy border blocks (Starflower; Ivy; Vine, and Arts and Crafts Border), which can be printed end to end to create exuberant tumbling borders of leaves, fruit and flowers. There's a delicate fern frond for a simpler leafy pattern. Then there's an array of creatures to inhabit and animate the leaves and flowers: a large Stripy Butterfly, a big Spotted Moth, a friendly Bumble Bee, a very sweet Snail and an audacious Caterpillar, as well as five assorted very small beetles, bugs, ladybirds and butterflies. A few of the blocks (including the Vine block at the top and the Bumble Bee, below) are available individually.

It's been a complete blast designing these blocks for the past two years. They became a covid-era obsession and comfort. There's something affirming about making the same mark over and over again, and finding that, arising from this tiny repeated action, something is created. We got absolutely hooked. Invention fed further invention and over the course of the pandemic our pile of blocks has grown absolutely enormous.

Perhaps it got a little bit out of control. We have decided that the time has come to pause for a while and turn our attention to other things. While we'll go on remaking and stocking the blocks, and no doubt add the occasional new one from time to time, we have decided that the beetles and the bees and their leafy borders will mark the end of the wild covid-induced efflorescence. Having said that, this moment is an unusual one in that right now, pretty much every printing block or set of blocks we've made in the past two years is in stock, even the Christmas blocks and the elusive Autumn Hedgerow Set. Get them while they're hot, folks.

What next? A million plans. We're working on pencils, the bodies manufactured by venerable firm Derwent in the Lake District, and then covered in our patterned paper. They should be with us any moment. Last year we made a summer book bag (see below – there are still a few left) so this year we're planning a winter one. We'd like to make mugs again. And tiles! Most excitingly, we may at last have found a new home for the business in Cambridge: we're hoping to move in in the autumn. Watch this space. But underneath the excitement about all these new projects lies an uneasiness. When the pandemic began we had a period of profound doubt: will anyone want to buy a patterned notebook in the middle of a crisis? Should we even be trying to sell something so essentially… inessential?

Now we seem to be back in a similar situation, but this time the enemy is not a virus but inflation. Prices of food and fuel are rising precipitously and frighteningly: in the circumstances, isn't a patterned paper-covered sketching pencil deeply frivolous? Will anyone have any money left to buy a patterned book bag come the autumn? Luckily, the fact that everything we make is made here in the UK means that our prices have been comparatively unaffected. As fuel prices climb that may change, but we'll do our best to keep price rises to a minimum. Also luckily, we were brought up in the Seventies, that ubiquitous journalistic shorthand for all that is catastrophic financially. So there is a strange feeling of familiarity about the storm clouds gathering. These past years of abundance and prosperity have seemed rather gluttonous, sometimes. There's something more wholesome about making do and getting by.

A key event of the Seventies, from a childhood perspective, was the Queen's Silver Jubilee in 1977.  I remember our street party very well.  This was long before the arrival of kiwi fruit and pitta bread in 1980 began the slow transformation of British supermarket food into the extraordinary feast-of-all-nations now always available. Salt and vinegar Twists and orange squash were the order of the day. Sandwiches had salad cream in them, mayonnaise being a rarely heard-of dubious foreign invention. To a seven-year-old the Queen seemed pretty ancient already. Forty-five years later here she still is, and the Platinum Jubilee was a really welcome opportunity to emerge properly, definitively, from covid-induced purdah, to re-discover old friends and the art of afternoon tea.

One of us was fortunate to be invited to a party which had wholeheartedly embraced the project of the fantastically complicated Official Jubilee Trifle. Our hostess had made not just the lemon curd swiss roll and orange jelly from scratch but even the amaretto biscuits. It was incredibly delicious. There were also tiny egg sandwiches garnished with radicchio micro-greens, cress having sold out across the land, surely for the first time ever. There was an enormous Victoria sponge. There was sparkling wine and elderflower cordial. We sat in the garden all through the endless sunny evening, occasionally getting up for more trifle, and chatting to people we hadn't seen for a long time. For the first time in two and a half years, not one of the conversations was about covid. It was so delightful.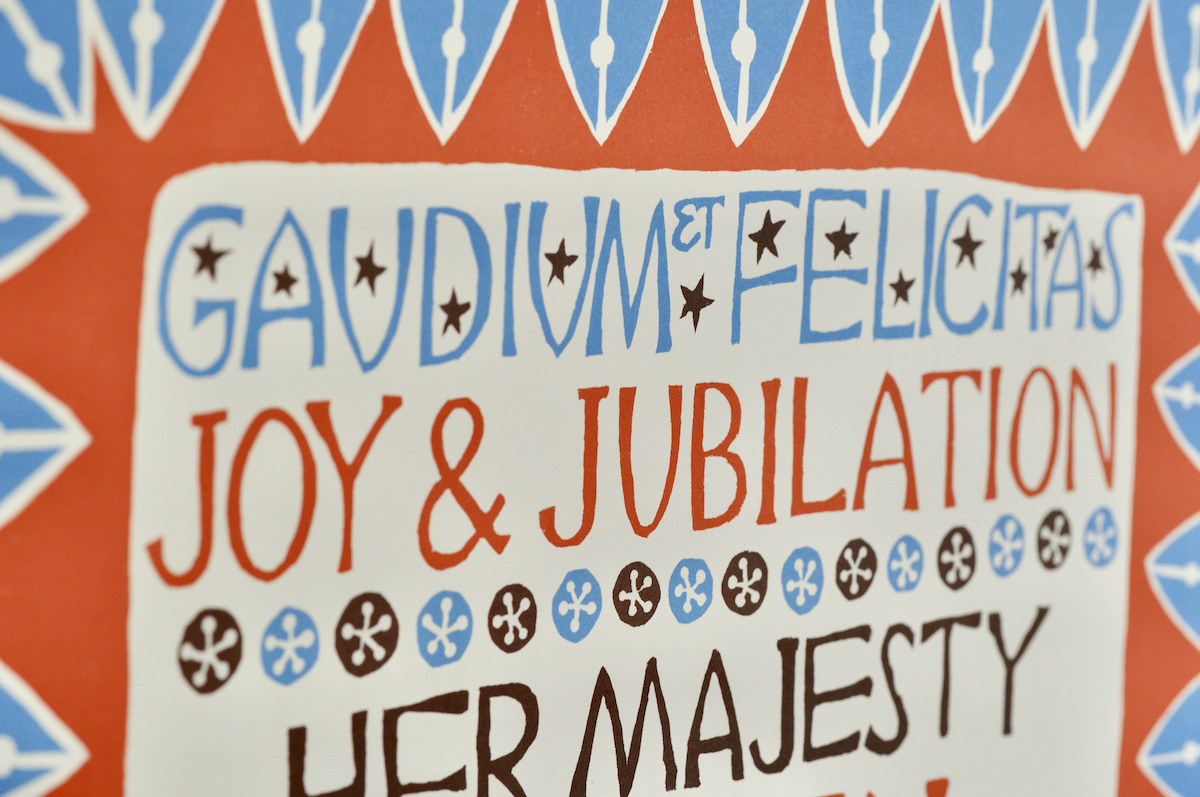 We had thought about making some sort of Jubilee-inspired item earlier in the year but felt that doing so positively invited calamity of a sort that should not be mentioned aloud but which is obviously going to happen at some point… You take my meaning. At the very last moment, which is to say two weeks before the day itself, we thought it seemed safe to take the plunge. Over the course of two days we designed and printed this very jolly limited edition poster. I'm afraid we had no opportunity to send a newsletter about it since to our astonishment it sold out within 24 hours of us putting it onto the website. Apologies to those who missed out. Clearly we are not alone in being Keen On The Queen.