11 Dec

On White (and Black)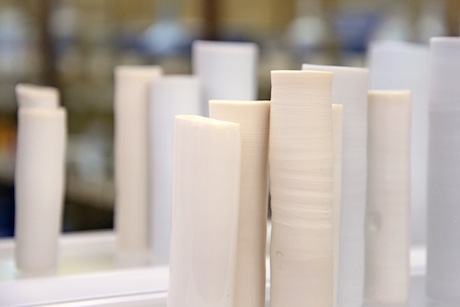 Edmund de Waal has created a very beautiful installation at the Fitzwilliam Museum, Cambridge called On White: Porcelain Stories from the Fitzwilliam. It's a space curated by de Waal containing his own white thrown porcelain vessels and selected objects from the museum's permanent ceramics collection, and it documents his fascination with white and with porcelain. It's in the ground floor galleries and runs until February 23rd. Entry free.
De Waal has just had a huge show at Gagosian in New York. His simple thrown porcelain vessels now sell for hundreds of thousands of pounds, which would make you anxious about actually, you know, using one. Whereas our new black and white mugs are a snip at £13.50. Made in Stoke on Trent, the heart of the English ceramics industry for 400 years, of very high quality creamware, and decorated with the names of Scientists and Poets associated with Cambridge, they are completely dishwasher safe and you can drink tea out of them without remortgaging your house.