17 Feb

Pocket Folios

We have long been contemplating dipping a toe into the world of journaling. We're generally believers in the superiority of analogue over digital, and slow over fast. Add to this the fact that we find no more grounding, stress-relieving activity ourselves than the making of an actual list, using pen and paper, from which things can be ticked off. Each of us carries around, all the time, several different notebooks for the making of such lists. So to embrace a way of collating and corralling these notebooks into a single entity seemed like an obvious thing to do.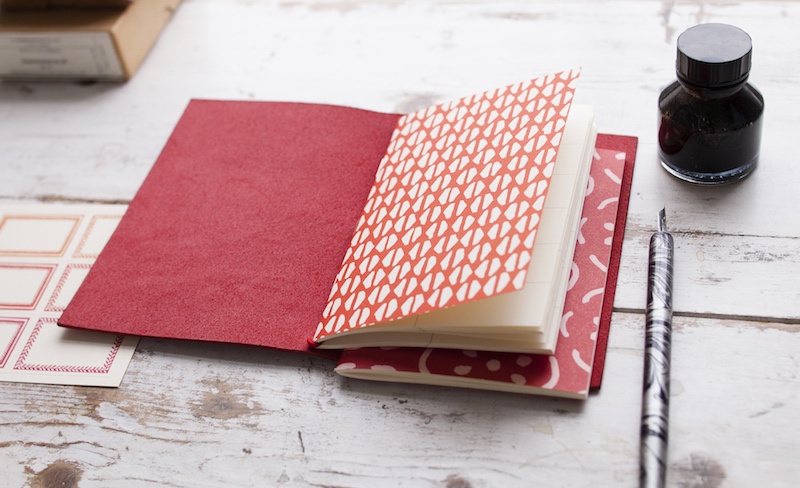 Last autumn in Paris we had the great good luck to meet the team at Paper Republic  and hatch a collaboration. Paper Republic is an enterprise with our kind of values. ("We trust and believe in paper.") Based in Vienna, they make a range of notebooks and folios from supple Italian leather, tanned with plants, herbs and wood in family tanneries. For us they have created a set of pocket-sized leather covers in three wonderful colours: a deep Petrol Blue, a rich Olive Green and a glorious Cherry Red.
In response we have created a set of notebook inserts in each colour: one plain, one lined, one graph, and one timeless planner. Each has patterned covers and pages of our usual smooth cream paper, which takes ink beautifully and will not smudge or bleed.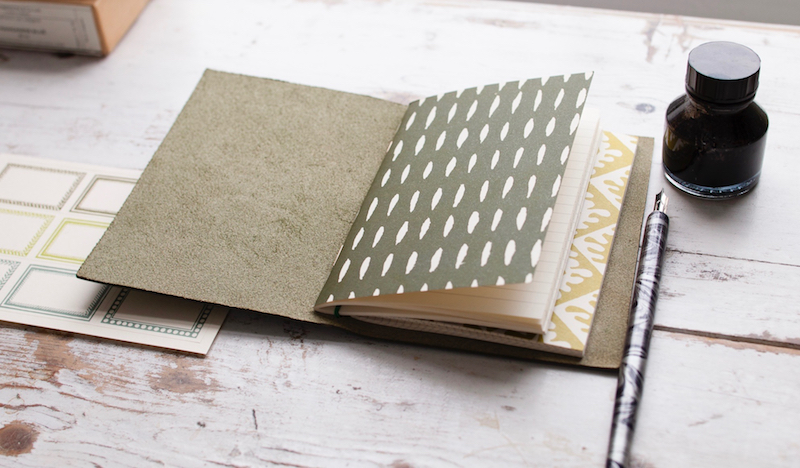 The idea is that you can construct a notebook entirely to your own specifications with different modules for different tasks or areas of life. Each individual book is slim—just 48 pages, or 52 in the case of the timeless planner—when it's finished, you can slip it out and slip in a new one. We've made some small labels in a range of appropriate colours so that you can label the outside of the books easily.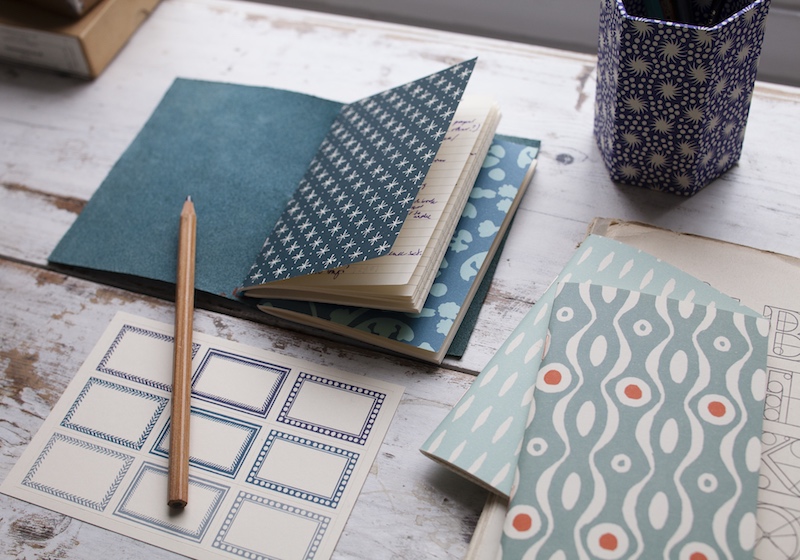 Then we began to get really carried away and we made this patterned receipt holder which can slip in around the notebooks and hold all those bits and pieces—stamps, receipts, business cards, loyalty cards—that make your wallet so difficult to close. We appreciate the prevailing minimalist journaling aesthetic of brown paper parcels tied up with string: brown leather; Kraft paper; buff; dun; grey; beige; the whole Japanese/Scandi utilitarian thing. But there's a lot of it about. We thought we'd do something really different.
We've had our own prototype Pocket Folios for a few months now and they're getting that nice lived-in feeling that leather gets when it's a bit dinged up because you're using it every day. I have to say, I love mine.
I enjoy the tiny act of creativity of choosing a new insert and rearranging everything when one notebook gets used up.
Writing appointments down on paper in the planner is keeping me organised in a way that I never achieved wrestling with the calendar on my phone, and I'm happy to think that no giant server in an anonymous warehouse in some foreign land has to keep running in order to remind me that I should put the bins out on Tuesday night.
Finally, although I have no interest in committing my thoughts to paper on a daily basis, I am creating an archive of my life as it is actually lived which I'll be able to flip back through one day. No matter how many new operating systems my computer has moved through, or other technologies have come and gone (farewell CDs and USB sticks), these notes I make to myself will be stably stored, using no energy, and completely legible, many years from now.
I do indeed trust and believe in paper!